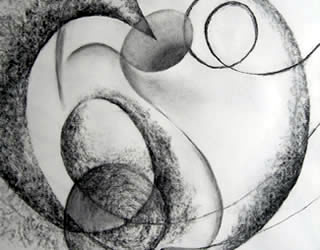 "Free !"
Delivery workshop is ongoing
Basically, we give lessons to students of primary schools, junior high
schools and high schools,
but we are delighted to deliver lessons to circles in universities,
companies and other organizations.

We put a base of operations in Shinjuku,Tokyo,
but if you and we are able to adjust schedules and conditions each other,
we will go giving lessons anywhere in the world.
Please do not hesitate to contact us.

I am advocating what I call "charcoal calligraphy." It's an artistic technique that involves first using charcoal to make a line drawing (i.e., calligraphy) representing the meanings of pre-set written character forms and the images their shapes evoke, and then finally solidifying that in a painting.
Thus, the technique contains elements of both calligraphy and painting.
I propose the introduction of this technique into fine arts and calligraphy education.
I believe that this technique will be useful in both respecting individual/self-expression in painting education – the driving force of the "Cizek method of art education" – and expanding the range of expression that calligraphy can provide.